Best Vape Shop In Vancouver
Ok Vapor is a proudly Canadian online vape store with 2 physical locations in east Vancouver: 3490 Kingsway #6, Vancouver, BC V5R 5L7 & 3490 E Hastings St, Vancouver, BC V5K 0A3.

We offer quality e-cigarettes, e-juice, disposables, nicotine salts and much more for both pickup and shipping. Your order is FREE if over $100 (+tax). If your order is below $100 your shipping fee is $15 flat if within British Columbia.


Location
STORE HOURS & LOCATIONS
Location #1: Ok Vapor Kingsway
#6-3490 Kingsway Ave
Vancouver, BC
Location #2: Ok Vapor Hastings
3490 East Hastings St.
Vancouver, BC
HOURS
Mon - Sun - 11am - 9pm
Holidays - 11am - 7pm
CONTACT US
Phone: 604-998-7377
Email: info@okvapor.net
Ok Vapor's Story
Ok Vapor Vancouver Shop
Since June 1st 2016, Ok Vapor is proud to offer authentic e-juices, vaping devices, vaporizers and accessories that will enhance your vaping experience.
OK Vapor is a vape shop in Vancouver near offering smokers an alternative by switching to vaping. We provide a variety of flavourful e-juices, variety of products and helpful customer service to meet your needs.
Whether if your on-the-go, away from home or at work. Ok Vapor is dedicated to ensuring your vaping experience is the best one.
If you like the products you see but are not near our Vancouver vape shop we also provide shipping to Surrey, Burnaby, Richmond, Langley, Victoria and all surrounding cities.
We thank you again for visiting our website, and we hope you enjoy our selection.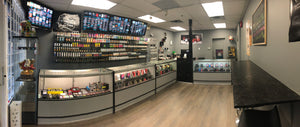 Frequently Asked Questions
What Is Your Refund Policy?
At this time we are unable to make any Returns or Exchanges on ALL E-juice products. For online-only purchases, unused Hardware that includes Mods, Tanks, Coils & Accessories can be exchanged for store credit within 14 days of purchase. Customers are responsible for covering shipping fees for the items that are sent back.
Do you check for ID verification?
At Ok Vapor we comply with all federal and provincial policies on the sale and distribution of goods to customers over the ages of 18-19+. Therefore, we require a signature and an ID check upon delivery or pickup for all orders. As a result of this, packages cannot be left at the door or in a mailbox. Orders shipped to a P.O. box address will be held at a Canada Post office for pickup. You can track your delivery using Canada Post's website at www.canadapost.ca/trackweb/.
What are your shipping rates & fees?
We offer FREE shipping if you order more than $100 (+taxes) of products.
If you are within B.C. - $15 Flat Rate for shipping
If you are outside B.C. - $20 Flat Rate for shipping             
*We currently do not provide shipment outside of Canada.